ABOUT BAAL KADMON
Baal Kadmon is an Author, and Occultist based out of New York City. In addition to the Occult, he is a Religious Scholar, Philosopher and a Historian specializing in Ancient History, Late Antiquity and Medieval History. He has studied and speaks Israeli Hebrew · Classical Hebrew · Ugaritic language · Arabic · Judeo-Aramaic · Syriac (language) · Ancient Greek and Classical Latin.
LEARN HOW TO RECITE MANTRAS
SURYA MANTRA AUDIOS
SURYAMAN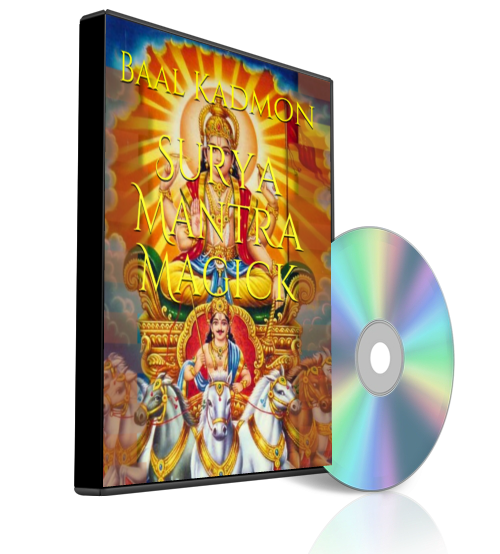 Surya Mantra Audios
In this audio set you will be guided through 13 Surya Mantras. Each Mantra has a purpose.
They Are:
To develop friendships or romantic relationships
Acquiring inner strength and fortitude
To Help with any goal
Dispelling darkness in your life, no matter what the source
For greater clarity and direction
For financial wellbeing
For new beginnings
For physical and mental healing
For confidence and self esteem
For protection
For good luck
For wisdom, be it occult or mundane
I have included the Surya Gayatri Mantra as well
Included in this audio set:
13 Mantras, recited 108 times each with a musical background in MP3 format. That is 88 Minutes Worth of Chanting.
A 90 day money back guarantee
PLEASE NOTE:
This download contains MP3 formatted Files.
IMPORTANT NOTE: Once payment is processed please check your email which will contain the download links.
The Music Featured in this audio is from:
"Clean Soul" Kevin MacLeod (incompetech.com)
Licensed under Creative Commons: By Attribution 3.0 License
http://creativecommons.org/licenses/by/3.0/

Follow Me on Social Media

Join The Baal Letter
When you sign up, you will get access to a FREE Video Meditation session from my latest course 'Meditation Made Accessible'.
---
I will also provide you with a coupon code that will take 50% off when you enroll in the course.
---
*I will never sell, lease or give away your information.*